---
Lee Altenberg's Home Page | Papers | Archives | E-mail Lee
---
Campaign to Halt the Import of
Chemical-Emitting
Smelly Plastic from China
---
---
No, you're not crazy or overly sensitive — there really is a horrible smelling chemical coming from that item you recently bought that was made in China. New chemicals appear to have entered the Chinese manufacturing stream since around 2005 or so that are now flooding into US (and now global) markets in a variety of products. Try Google on ["made in China smell"]. Something in the nature of the problem has prevented a widespread response — US toxics laws are inadequate, most people are either oblivious to odor, are too busy, stoic, in denial, passive, or resigned, to do anything, or believe that the chemicals will "air out", or don't realize this is a new problem, or — most dangerously — think it is "normal". This Web site is created in the hope of changing that. Below is a description of how I came upon this issue, followed by responses to this web page, and other reports from the web on the problem.
BREAKING NEWS
July 24, 2012, 2:23 p.m. EDT: Health Care Announces Support for Safe Chemicals Act on Eve of Committee Vote

Let your Senators know you support the Safe Chemicals Act. Click HERE or HERE .


2012-6-19: Samsonite Pulls Luggage Amid Cancer Claims. It appears that the plastic chemical issue is starting to get business-media attention (although the story does not address where the luggage was manufactured).
"Samsonite sent random samples of the products to laboratories in Germany and Hong Kong to assess the levels of polycyclic aromatic hydrocarbons in the handles..."
2011-9-6: A preliminary study of a sample of rubber on a violin case from China smelling of "Chemical A" shows that it is outgassing large quantities of tetrachloroethylene (also called perchloroethylene, tetrachloroethene, PERC, PCE). Here is an excerpt about tetrachloroethylene from the Toxic Substances Portal at the Center for Disease Control:
"Tetrachloroethylene is a manufactured chemical used for dry cleaning and metal degreasing. Exposure to very high concentrations of tetrachloroethylene can cause dizziness, headaches, sleepiness, confusion, nausea, difficulty in speaking and walking, unconsciousness, and death. Tetrachloroethylene has been found in at least 771 of the 1,430 National Priorities List sites identified by the Environmental Protection Agency (EPA). ... The National Institute for Occupational Safety and Health (NIOSH) recommends that tetrachloroethylene be handled as a potential carcinogen and recommends that levels in workplace air should be as low as possible.
2009-12-3: Lab analysis shows Christmas ornaments from China emitting high levels of 1,2-dichlorethane (DCA): [Story 1] [Story 2]:
"... all the ornaments combined were emitting levels in the range the EPA predicts could cause cancer, between 0.094 and 9.4 micrograms per cubic meter. His tests also revealed that an ornament could theoretically emit the toxic chemical for up to 345 days. Because all the ornaments seemed to come from one factory in China, he said, he's not sure how widespread the problem is. Regardless, he notes that the chemical is banned from use by U.S. manufacturers."
In the summer of 2007, on my last day in Beijing after teaching at a science summer school, I took a stroll and came across a music store. I ended up buying a low priced violin and traditional Chinese hulusi. The hulusi case, pictured here, put out an odor I had never smelled before. It reminded me of something though... and that was the sheep dip I had used raising sheep in 4-H as a child in California. I had no idea as a kid what sheep dip was — it was just something you used to keep your sheep clean. I later looked it up and it was some kind of organophosphate pesticide solution.

On the flight home, I tossed the hulusi case in my day pack, and carried it and the violin on the plane, putting the violin in the overhead compartment. As the long flight wore on, I started noticing that an odor similar to the hulusi case was coming from the violin case.

When I arrived home, the smell of the hulusi case had permeated my day pack, and months after retained the chemical odor. The violin case kept outgassing this smell as well, and would smell up a whole car or bedroom that it was in.

The next year when I was back in Beijing, I bought another, better violin, and its case had the same odor, with the greatest intensity coming from the black rubber-like feet on the case. I removed them, and put them in a plastic Ziploc bag. The smell passed right through the wall of the bag. I put a second bag around the first, and the smell passed right through the second wall. This was a really creepy chemical.

I searched online for any other reports of smelly plastic from China. In 2008, I found very few. But by late 2010, there are very many reports. The production of this smelly Chinese plastic therefore appears to be fairly recent. My own experience is that I had never encountered this odor before 2007. The earliest reports I find among product reviews is 2007. It seems to be present in synthetic rubbers and coated nylon fabrics. Some respondents to this Web site report problems going back longer.

So, based on the evidence, my guess is that Chinese manufacturing plants started using some new chemical process to produce synthetic rubber-like plastic around 2005 or so, and that many new plants are being built that employ this process. Perhaps it is part of the large plastic recycling industry in China. China's industry is growing so fast that problems are probably emerging faster than they can be solved (check out this documentary). China's 10% annual economic growth rate means that half of today's factories in China didn't even exist in 2005.

In the past three years, smelly plastic from the People's Republic of China is now infiltrating markets all over the United States for a wide variety of products. See my list of some items, below.

I recently went shopping for a suitcase, and had to search very hard before I could find models that did not have this chemical smell.

I am a longtime owner of TravelPro suitcases — first, a RollAboard model from 1994, then Walkabout models from 2002 and 2003. None of these put out any kind of odor. Today, almost all brands of luggage (even Swiss Victorinox) are now made in China. The Delsey Helium Fusion I bought seemed o.k. in the store, but in my car, the chemical odor filled the vehicle. I returned it. Walking toward the Sears luggage department, from twenty feet away I could smell the chemicals outgassing from the collection of suitcases. The only model I found without a chemical odor was the TravelPro Crew 7. And indeed, the Crew 7 line is not made in China, but in Thailand. The Walkabout Lite 3 model by TravelPro is made in China, and has a strong chemical odor. However, it is a different odor from that of the violin case and Delsey bag. So, I am referring to the original odor as "Chemical A", and the TravelPro Walkabout 3 Lite odor as "Chemical B". I have encountered Chemical B coming from the foam pads on the bottom of desk lamps made in China, and from an office chair. See below.

Recently, I have tried to find a ukulele gig bag, and all of them are made in China and all of them exude "Chemical A". Rooms in several music shops I've visited where the bags and cases are stored all reek of "Chemical A" or "Chemical B".

Now, it's long known that some plastics outgas smelly chemicals. New vinyl outgasses toxic vinyl chloride and other chemicals, which may be injurious [PDF]. Old waterproofed nylon raingear and tents can smell awful (like vomit). Polyurethane foam in mattresses outgasses chemicals that many people are complaining about. I learned from one forum that cellulose acetate butyrate handles on old tools can put out malodorous butyric acid.

But this wave of synthetic material now inundating the United States, and presumably the world, from the People's Republic of China appears to have new chemicals we have not encountered before. Who knows whether they are safe? They smell terrible, they ruin the scent environment wherever they are brought. I do not want to have this smell in my life. But I am running into more and more products where all the models I can find have this chemical.

I have written to product manufacturers and some government agencies to bring attention to this issue, but have not seen any action taken. So I want to help network other concerned citizens and get some action taken.
---
WHAT TO DO:
Some laboratory needs to identify the chemicals causing these odors and their identities made publically available.

Forward the link to this page, http://dynamics.org/CHINA_PLASTIC/ , to any chemist, chemistry student, chemistry professor, environmental or consumer activist, or other person you know who could facilitate getting these materials analyzed. It would make a great and potentially publishable project for a chemistry student.

Publicity for the issue. There need to be more minds working on it!

Post a link to this site, http://dynamics.org/CHINA_PLASTIC/ , on your own public web pages, e.g. FaceBook or YouTube. That will also make it easier for searches to find it.
Make videos for YouTube or groups on FaceBook, or start chain e-mails about their experiences with smelly plastic from China.
Once there are some laboratory results on the chemicals, the efforts to stop their manufacture and import could merit TV documentary attention.
Once a public interest group takes up this issue, it can use its resources of course to gain attention to it.

Consumer groups, and government agencies, need to make this issue an action priority. I have contacted the following groups, who have not yet taken any action, but which you may wish to encourage: Center for Environmental Health, Consumer Reports, U.S. Consumer Product Safety Commission, Senators, Representatives, Hawaii Department of Health. Also: Occupational Safety and Health Administration.
Congress needs to ban the importation of products containing these chemicals from the United States, for the minimal reason that it is polluting our sensory environment, and for the reason that these chemicals are possibly toxic. Time Magazine has this April 1, 2010 article on efforts to change Federal safety regulations on domestic chemicals.

Recent recalls of thousands of bottles of drugs due to smelly contaminant tribromoanisole ([1] [2] [3] [4] [5]) show the huge disparity in regulation, and in consumer vigilance, between what we put in our mouths and what we put on our skin or breath through our nose.

You can write to Congress to pass the Safe Chemicals Act of 2011 at this web site.

An enterprising attorney could invest the funds up front to get some samples of these materials tested at a laboratory, and file a class action law suit on behalf of American consumers against the appropriate parties. THAT would get people's attention.
At the very minimum, individuals are responsible for exerting their own quantum of the market forces:

consumers need to inspect items for scent and refuse to buy or keep any item reeking of chemicals,
clerks need to report smelly stock to supervisors,
salespeople and others assigned to work in areas with air chronically contaminated with these chemicals need to go through channels to protect themselves from exposure, going all the way to OSHA if necessary.
managers need to pass reports up the line to those making purchasing decisions,
buyers need to refuse to buy smelly stock, even if they are selling well,
importers need to do the same thing, and lastly,
people in the manufacturing industries creating these materials need to be whistle blowers on whomever is deliberately choosing the processes that produce the smelly plastic.
Contact me if you have encountered any of this smelly plastic from China and would like to join forces in bringing attention to this issue.
---
---
Reports without Confirmation of Country of Manufacture
---
Smelly Products Made Elsewhere
Readers have sent in growing numbers of reports of smelly synthetic products whose labels say they are manufactured in Europe or North America. It raises the question of whether China-made materials are entering the global manufacturing stream, or whether material manufacturers elsewhere are following China's lead in using outgassing chemicals in their synthetic production.

May 5, 2012:
The worst thing has been the plastic rubber piece in the Miele Novotronic washing machine we purchased, at a cost of almost $2,000.00. The rubber seal smells of rubber and mothballs and makes your clothing smell of rubber and mothballs when you wash them in this machine. (Apparently some types of rubber contain naptha, and I think the rubber door seal has it in it.) The machine has a design flaw whereby in order for the water not to sit in the seal, the machine pushes the water through it while washing, thus making everything smell terrible. It actually ruined my dressers, making everything smell of mothballs.

We bought it because it is made in Germany, but it appears it is a machine made exclusively for the Canadian market, so I imagine in Europe they most likely have higher end parts in them.

Unfortunately, I cannot use the machine the smell is so bad - and toxic. Miele refused to discuss the issue. Whenever I phone Miele they actually are quite abusive and yell at me, and ask me what my problem is. ... If I'd read about this - anywhere - I never would have purchased it. Sadly I read only positive reviews prior to buying it.
February 15, 2012
I am glad to hear other people are aware of this issue - I just consigned a lovely plastic purse made by LYDC I bought from e-Bay.co.uk to the bin, because the smell since I opened it just this morning was giving me a headache, sore throat, and even a dry cough - I've had TONS of plastic purses and stuff before, and this has never happened in the past. LYDC's stuff looks great (for its price range) and is all over e-Bay, I wonder how many people will have a bad reaction... I also had to bin some "jelly band" bracelets that I bought last year, because they gave off a smell after days on a sunny windowsill, yet I've bought and worn many of these in the past without any problems AT ALL. It's worrying me that products that were previously problem-free are now toxic, and this stuff makes me feel so ill (sore throat, headache, cough, and worst of all a general sense of malaise - and I'm not a fragile person, I don't have any medical problems or serious allergies) that I wonder where we'll be at in 5, 10 years if this keeps up?

interestingly, the purse I have doesn't have any sign of where it was manufactured, which is highly unusual within the EU (who have their bad points, but are also very hot on quality of materials and so on). Usually goods are even marked with a CE logo, which means they conform to various standards - and I'm not just talking about baby goods or toys, I mean all kinds of stuff, so that's an additional factor here. Their website http://www.lydc.co.uk/ brings up this text ... "Please be aware of the unauthorized LYDC distributor in the US, as their inauthentic products are low-quality copies of LYDC London. They cannot reflect the image of LYDC."
January 30, 2012
I came across your website after I had bought this noxious product on an ebay store in the UK. It is supposed to be an igloo style pet bed for my small dog.

When it arrived, I could not believe how strong the smell was. I complained that they had sent me an low quality poisonous product and they offered me a refund if I paid to send it back. I refused the refund (illogical I know, but I couldn't bring myself to pay to send it back), so I washed it in the washing machine to see what would happen.

Even after that it still smelled like it belonged in a chemical plant. So I am now looking for somewhere where I can get it chemically analysed. I am so furious with the people who sell it that I feel the need to publicly 'out' them. If I had put my dog inside this thing who knows what noxious gases she would have been breathing all night.

The item was manufactured in the UK, in that it was cut and constructed here, however I suspect the "sherpa fur" and "faux leather" materials were bought in bulk from China.
---
Other Reports (collected from the Web):
---
Reports from China on smelly plastic:
[Google Translation of 'smelly plastic" into Chinese] shows 7,510 hits, similar to the 11,300 hits in English (as of October 2011). This crude metric suggests that Chinese people are themselves concerned about this problem. Here are some samples, machine translated.
---
Chemical "A"
---
Chemical "B"
---
Some Current Items Not Made In China, Not Smelly
| | |
| --- | --- |
| | |
| TravelPro Crew 7 line of luggage, made in Thailand | JanSport SuperBreak 24" Wheeled Upright, made in Vietnam |
---
Some Current Items Made In China, But Not Smelly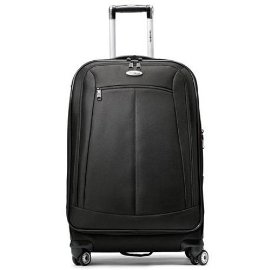 Samsonite, made in China, no odor
---
---
Addendum: Plastic is not the only worry ...
In researching this issue, I came across this report on leather sofas from China. 28th March 2009:
"Thousands of Britons who were seriously burnt after sitting on 'toxic sofas' could be in line for compensation totalling £10million. Fifteen retailers including Argos, Homebase and Land of Leather are in the dock after admitting the cheap leather sofas from China were dangerous. Some 200,000 of them were sold, and it is thought tens of thousands of customers could make claims for ill-health and financial loss. ...

The sofas caused fierce allergic reactions in people of all ages. A number required emergency hospital treatment for serious burns, while the symptoms may even have contributed to some deaths. The problem was caused by sachets of a chemical called dimethyl fumarate, an anti-mould agent put inside the sofas to stop them deteriorating during storage and transportation.

DMF can be toxic in tiny amounts, causing serious blistering and bleeding of the skin. Some victims suffered eye problems while others had difficulty breathing. They are furious that retailers which sold thousands of suspect items failed to issue proper warnings and recalls after customers reported falling ill. For many months, the stores continued to sell the sofas and simply brushed away the concerns of customers. This meant hundreds were unable to identify the reason why they were so ill and continuing to get worse. . . .

The chemical behind all the suffering, dimethyl fumarate, is a fungicide and considered so dangerous that those who have to work with it wear protective clothing. Yet Chinese furniture makers simply put it in sachets inside sofas. Presumably they believed that, because the powder was inside the sofa, no one would come to harm. But body heat from those sitting on the furniture made the DMF evaporate. The toxic vapour then seeped out and found its way to its victims."
---
Addendum: And not just China ...
The first item made outside of China that I have found with Chemical "A" is a Springer India book printed in 2007. The smell is faint, but it is the same scent as the items listed above under "Chemical A". The scent appears to be in the paper itself, as opposed to just the binding.
---
páchnoucí plastu | ildelugtende plast | stinkende plastic | haisev plastikust | nangangamoy plastic | haiseva muovi | plastiques malodorantes | stinkenden Kunststoff | δύσοσμες πλαστικό | büdös muanyag | daunillur plast | bau plastik | plastica puzzolenti | smirdošs plastmasas | smirdantis plastiko | smierdzacy tworzyw sztucznych | mirositor din material plastic | páchnuce plastu | smrdeca plasticna | plástico maloliente | yenye harufu ya plastiki | stinkande plast | illaluktande plast | kötü kokulu plastik | mùi nhua | plastig drewllyd
---