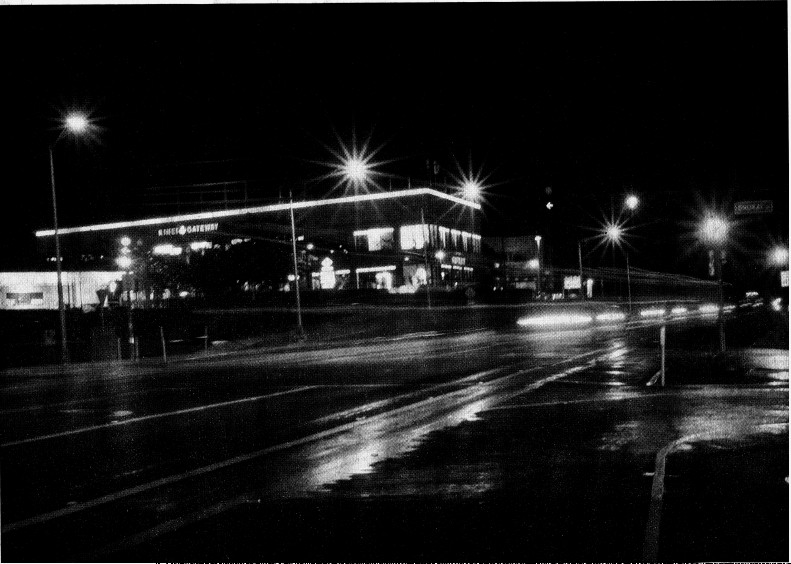 Draft of lighting bill finalized
Issue expected to be held for new council
By ILIMA LOOMIS
Staff Writer
WAILUKU — A bill that would regulate outdoor lighting on Maui has been finalized after months of work by a special subcommittee.
But it's not likely the draft bill will move ahead to becoming law anytime soon. With just two more meetings in this Maui County Council's calendar, the issue is expected to be put off to the next
term, after a new council takes office on Jan. 2.
Subcommittee member Lee Altenberg, a University of Hawaii associate professor who has been active on the outdoor lighting issue since 1997, said efforts to regulate outdoor lighting in Maui County began nearly a decade ago.
"This is as far as any bill has advanced,
but we're hoping it won't die on the vine as many previous efforts have," he said.
The proposed regulations are meant to reduce light pollution, which in addition to frustrating stargazers is blamed for harming native bird and turtle populations and reducing the quality of images captured by telescopes on Haleakala.
Under the bill, most new outdoor lights would have to be "shielded" downward and fitted with low-pressure sodium bulbs that cast a yellow light that doesn't interfere with astronomy and is less likely to distract birds and turtles.
But the Maui Police Department has come out in strong opposition to the bill, saying the low-pressure sodium lights reduce color rendition and visibility, creating a public safety hazard.
Hotel industry representatives have also stressed that adequate outdoor lighting is essential for resort ambience and security.
Council Member Mike Molina, who chaired the subcommittee, said he thought many light-pollution concerns could be addressed simply by shielding.
"We have to balance the concerns of the astronomy people and the naturalists with the need for public safety," he said.
But Altenberg said both shielding and the low-pressure sodium bulbs are necessary. The shields reduce glare, but about 30 percent of the light reflects off the ground and still contributes to light pollution. With low-pressure sodium, the light that does escape will be safe for astronomers and native wildlife alike, he said.
The current bill would not require existing lights to be retrofitted; only new lights would be subject to the new requirements.
Maui Police Assistant Chief Robert "Butch" Tam Ho, said he was strongly against low-pressure sodium lights, which he said are "uncomfortable" to look at and created problems for public safety.
"It distorts color so it would put pedestrians in jeopardy, it would put bicyclists in jeopardy," he said.
He also said that because the lights are yellow, they could create confusion in drivers approaching yellow traffic signals.
"People will be running traffic lights," he said.
Supporters of the bill say regulations are needed to curb light pollution.
White lights affect the nesting habits of sea turtles, because female turtles won't nest on lit beaches, and turtle hatchlings attracted to artificial lights often wander into parking lots and traffic instead of heading for the ocean.
Young seabirds leaving their nests are also attracted to artificial lights; each year many native birds fall to the ground in exhaustion after circling urban lights they apparently confuse with the stars and moon.
Light pollution also reduces the quality of images taken by telescopes on Haleakala, potentially affecting both scientific studies and multimillion-dollar research contracts, astronomers have said.
And for some, light pollution is a quality-of-life issue. Maui has a view of some 2,000 stars at night, and many residents enjoy that. Residents in major cities see fewer than a dozen stars.
"I have friends who come over from Honolulu who say, 'Wow, this is great, you can see the stars,'" said Napili resident Donna Brown in testimony before the subcommittee.
The panel that drafted the bill was made up of naturalists, astronomers and members of the scientific community.
It did not include representatives of the hotel industry or public safety officers.
But Maui Hotel Association President Terryl Vencl has said she was satisfied that the subcommittee listened to her and included her comments in the process of drafting the bill.
Vencl said that hotels need lighting both for security and to create the kind of ambience vacationers expect when they come to Maui.
Tam Ho said he felt the subcommittee didn't listen to him.
"Our main concern is we're against low-pressure sodium lights, totally against," he said. "And we made that very, very clear, but nobody wants to listen."
Altenberg said the panel compromised by exempting certain areas where color rendition is needed — like playing fields and outdoor restaurants — from the low-pressure sodium requirement.
"The problem is the police don't want low-pressure sodium at all," he said.
He also said that police didn't offer hard evidence to back up their concerns, while reports from areas that have already switched over to the lights — including the Big Island, Tucson, Ariz., and San Diego — showed that public safety didn't seem to be affected by the change.
He added that almost all the provisions in the proposed bill were borrowed from laws that already exist in other parts of the state and country.
"We're trying to have Maui catch up with other communities that care about their nighttime sky," he said.
---