---
Lee Altenberg's Home Page > Archives > Stanford | E-mail Lee
---
Synergy House, 1972-1991
Beta Chi Chapter House of Sigma Nu fraternity, 1910-1972
664 San Juan, Stanford California

(Synergy House Co-op relocated in 1993 to the Cooksey House, 550 San Juan, Stanford. Beta Chi of Sigma Nu is re-established in the former Delta Upsilon house)
(Last updated May 18, 2012)

---
The activist community at Stanford from 1969-1972 also brought forth several other protean groups that prepared the way for Synergy's creation:
---
Some selected Synergy alumni:


This was the only fraternity house ever designed by renowned Beaux Arts architects Bakewell and Brown, who also designed the City Halls for San Francisco and Pasadena, and many other buildings at Stanford. On July 10, 1991, the Santa Clara County Historical Heritage Commission voted unanimously to recommend that Synergy House be given Point of Historical Interest status. Donald Kennedy, Stanford University president, ordered the demolition of the house in November 1991 to replace it with faculty houses. He turned down an offer of a one million dollar loan from the Campus Co-op Development Corporation to repair damage from the 1989 earthquake. He refused to speak with any members of the Committee for the Preservation of Historic Stanford about the historical importance of the house. The Synergy Co-op community relocated to several other houses after the 1989 quake and today continues in the Cooksey House on the Stanford Campus. The palm trees in these photos still stand. Donald Kennedy offered his resignation from the Stanford Presidency in the midst of his decision to demolish Synergy House.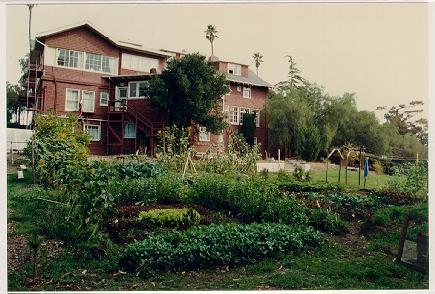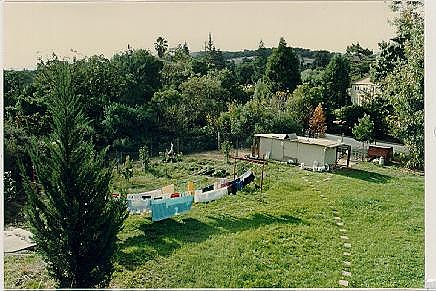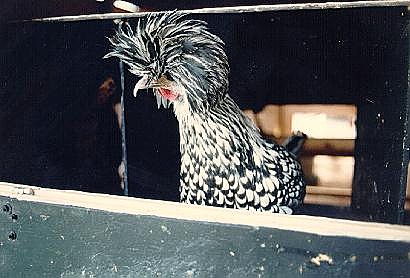 The chicken coop.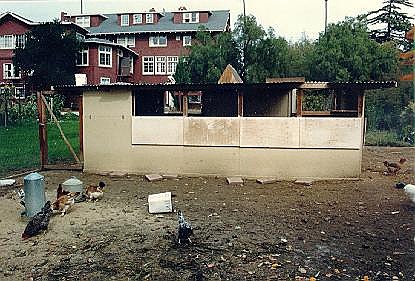 The Solar Clothes Drier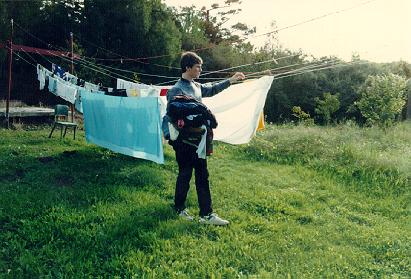 The Biodynamic/French Intensive organic garden.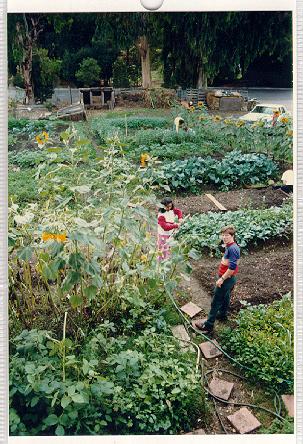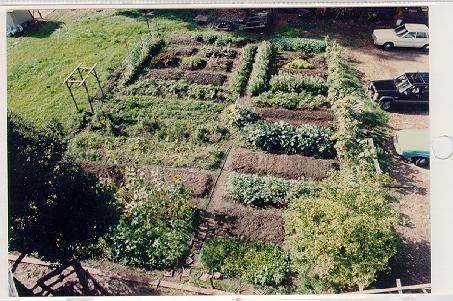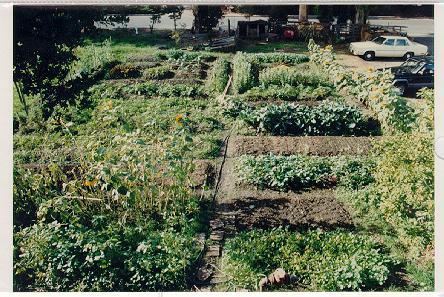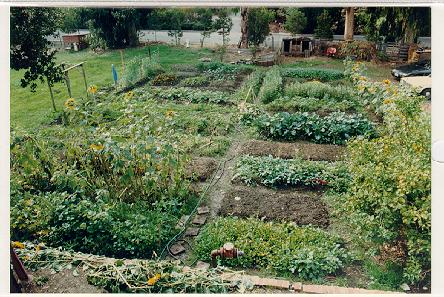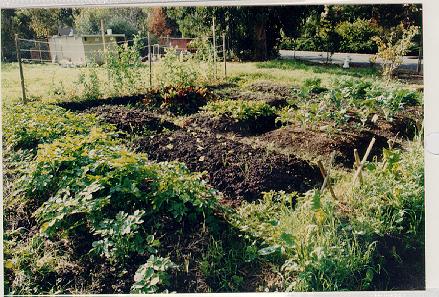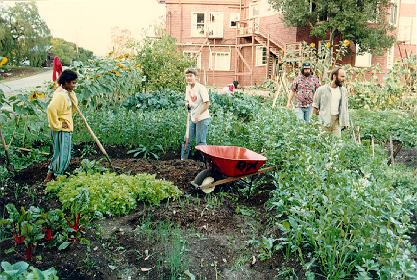 A demonstration of honey from the bee hive, at the 1987 Fifteenth Anniversary Synergy Reunion.
---
---
Other Synergy House Links: Synergy House Home Page | Synergy's Synaepedia Wiki | Synergy's page at the U.S. Environmental Protection Agency | Synergy's page at the Intentional Communities Directory | Synergy's review in the New York Times | Synergy House on Google Video | Synergy House on YouTube

---
Lost Synergy House Sites (these Links no longer connect): Synergy's energy audit page at Akeena.net | Hans Kramer's Synergy Alumni site | Synergy 30th Anniversary Reunion, 2002 | Quake Mem | 2000 Reunion | Forrest Fleischman's 1999-2000 Pix | Synergy House Comic Strip