A special opportunity to learn from America's premier Tango teachers!!
Three Day Workshop, Milonga and Practica
Friday-Sunday, November 11-13, 2005

with of Seattle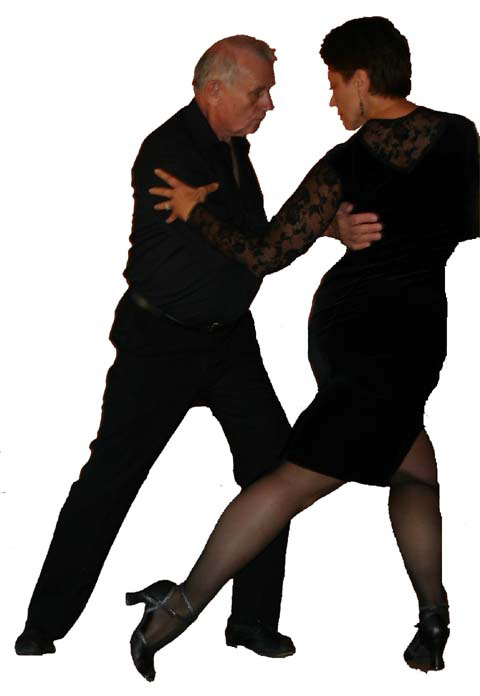 Tango is a living dance and, like life itself, is evolving.  It has moved in a most civilized fashion from its early origin of being a dance of dominance and submission to one of invitation and acceptance.  The invitation being extended from the man's center, the acceptance coming from the woman's center. I think of each tango as having its own life and breath.  

To me, the endearing aspects of the dance are the ebb and flow of partners moving together and apart, the dynamics of tension and release, and the pleasure of having just spent three minutes closely sharing a "Tango Moment."  
Cost:

BEGINNERS: $25 FOR ENTIRE EVENING.
INTERMEDIATE: $15 PER CLASS, $35 FOR ALL 3.
Schedule:

Friday November 11:

7:30-8:30 pm. Intermediate I. Back In Motion Studio.
8:30-10pm Milonga $3

Saturday November 12:

Before 2:30pm: Private Lessons, at Back in Motion Studio, Pukalani
2:30-4pm Intermediate 1
4-6p Dinner & Tango Chat, at Bangkok Cuisine
6-7:15p Beginners 1
7:15-8:30pm Beginners 2
8:30 - 10pm Milonga

Sunday November 13:

Before 2:30pm: Private Lessons, at Back in Motion Studio, Pukalani
2:30-4pm Intermediate 2, at Back in Motion Studio
4-6p Dinner & Tango Chat, place TBD
6-7:15p Beginners 3, at MACC Omori Studio
7:15-8:30pm Beginners 4
8:30 - 10pm Practica
---
Maps:

Maui Arts and Cultural Center, Omori Studio, Kahului, Maui, Hawai`i:


Back In Motion Studio, 412 Ehilani, Pukalani, Maui, Hawai`i:

---
Private lessons are available with Sonny & Nancy Newman at $50 an hour at Back In Motion Studio, 412 Ehilani, Pukalani. Contact Rita O'Keane 572-7067 OKEANER001@hawaii.rr.com
---
Download Poster to help with publicity:
8.5 x 11
4 Handbills
---
---