A special opportunity to learn an Argentinian Tanguera!!
Three Day Workshop, Milonga and Practica
Friday-Sunday, December 9-11, 2005

with
Carina Losano
of Buenos Aires
EXTRA CLASSES WITH CARINA LOSANO:

WHAT: WOMEN'S TECHNIQUE + MOLINETES STRUCTURE
WHEN: SATURDAY DECEMBER 17TH
TIME: 9:00 to 10:30 "Women's technique" & 10:30 to 12 noon "Molinetes Structure"
WHERE: MACC Omori Studio
OTHER INFO: PRICE + 8:00 to 9:00 am available for private lesson.
I can teach one more class if it would be requested before the practice.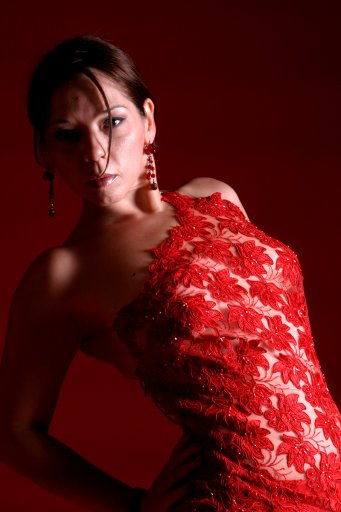 Photo by Michael Stewart
Carina Losano is a native of Buenos Aires and has studied many forms of dance. She trained with many of the great Argentine tango masters—such as Juan Carlos Copes, Eduardo Arquimbau, Pepito Avellaneda, Gloria and Rodolfo Dinzels, Carlos Rivarola, Gustavo Naveria, Fabian Salas, and Graciela Gonzales—and taught students from all over the world at the revered Confiteria Ideal in Buenos Aires before moving to the US.

Carina is an accomplished choreographer as well as performer and instructor, and her credits include teaching Madonna tango technique for her role in Evita, and co-choreographing the PEPSI commercial starring Shakira that was aired nationally throughout the U.S during the 2003 Academy Awards.

As an instructor, Carina teaches a style of tango which is elegant and dynamic, while at the same time relaxed, comfortable, enjoyable, and accessible to everyone. Her natural ability and her training with some of the greatest masters from Argentina give her a unique capacity to instill her students with a deep feeling for the subtle nuances of tango. She emphasizes contact and communication between dancers so that they move together in rhythm and harmony. Under her guidance, students realize a new feeling for music and movement, and they come to enjoy the sensations which have made tango a seductive art for generations.

To deepen her understanding of the history and structure of tango, Carina took classes at the Tango University of Buenos Aires on the theory and interpretation of tango music, tango style and technique, and tango poetry. She was appointed a Cultural Ambassador by the Secretary of Culture of Buenos Aires in 2000 and now serves as the official tango instructor of the Argentine Embassy in Washington, DC.

Carina performs regularly in the US at locations such as the Argentine Embassy, the Organization of American States, the Kennedy Center for the Performing Arts, and she was one of the featured performers at the Hispanic Inaugural Gala for President George W. Bush in 2001.  
Cost:

BEGINNERS: $25 FOR ENTIRE EVENING.
INTERMEDIATE: $15 PER CLASS.
Schedule:

Friday December 9:

7:30-8:30 pm. Intermediate I. Back In Motion Studio.
8:30-10pm Milonga $3

Saturday December 10:

Before 2:30pm: Private Lessons, at Back in Motion Studio, Pukalani
2:30-4pm Intermediate 1
4-6p Dinner & Tango Chat, at Bangkok Cuisine
6-7:15p Beginners 1, at MACC Omori Studio
7:15-8:30pm Beginners 2, at MACC Omori Studio
8:30 - 10pm Milonga

Sunday December 11:

Before 2:30pm: Private Lessons, at Back in Motion Studio, Pukalani
2:30-4pm Intermediate 2, at Back in Motion Studio
4-6p Dinner & Tango Chat, place TBD
6-7:15p Beginners 3, at MACC Omori Studio
7:15-8:30pm Beginners 4, at MACC Omori Studio
8:30 - 10pm Practica


Photo by Michael Stewart
---
Maps:

Maui Arts and Cultural Center, Omori Studio, Kahului, Maui, Hawai`i:


Back In Motion Studio, 412 Ehilani, Pukalani, Maui, Hawai`i:

---
Private lessons are available with Carina Losano at $70 an hour at Back In Motion Studio, 412 Ehilani, Pukalani. Contact Rita O'Keane 572-7067 OKEANER001@hawaii.rr.com
---
Download Poster to help with publicity:
8.5 x 11
4 Handbills
---
REGISTER WITH:

OKEANER001@hawaii.rr.com 572-7067.

Webmaster: