A special opportunity to learn from one of America's premier Tango teachers!!
Tango Workshop and Milonga
with
One day Workshop and Milonga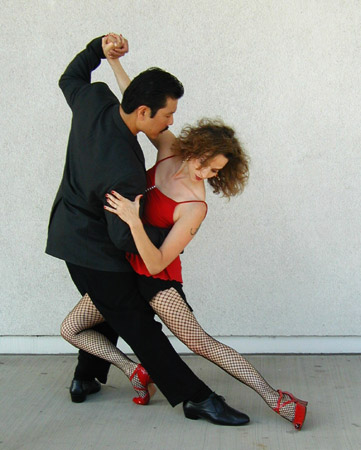 When:

Saturday, April 30, 2005. Detailed schedule below.

Where:

North Shore Movement Arts, Haiku Cannery Mall, 810 Haiku Road, #230, Haiku, Maui, Hawai`i (Near The Studio Maui)


Cost:

$25 for one class. $5 off each class if paid by Sunday 4/24/2005.
Schedule:
12-1:45 pm Beginners' Technique. Foundation technique in open and close embrace. Intermediate level students encouraged to attend!
2-3:45 pm Intermediate Technique. — All Levels — Building on the foundations.
4-4:45 pm Advanced Intermediate.
6-8 pm Dinner Break
8 pm to closing! Milonga (Argentine style social dance party!!) $5.
Sunday 5/1/2005:
9am-2pm: Private Lessons with George Garcia in Pukalani, $60 per hour for 1 to 4 people. Call Kathleen 572-9599 to arrange.
6 - 10 pm Practica, Maui Arts and Cultural Center, Omori Studio. $5.
Download Poster to help with publicity:
8.5 x 11
4 Handbills
---
---