A special opportunity to learn from one of America's premier Tango teachers!!
Tango Summer School Maui 2005
Concluding Workshop
with
Two day Workshop and Milonga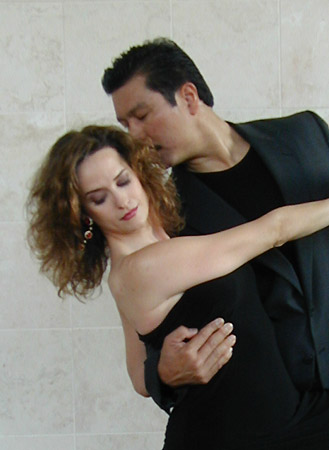 When:

Saturday-Sunday, August 27-28, 2005. Detailed schedule below.

Where:

Maui Arts and Cultural Center, Omori Studio, Kahului, Maui, Hawai`i


Cost:

$30 for one entire evening. $50 for both nights!
Schedule:
Saturday, August 27, 2005. $30 for the entire evening.

6-7:20 pm Review I of Susana Miller Workshop in the Close-Embrace: Technique and Musicality of the Milonguero/Milonguera.
7:30-8:50 pm. Sacadas and Turns.
8:50-10pm Practica

Sunday, August 28, 2005. $30 for the entire evening.

6-7:20 pm Review II of Susana Miller Workshop in the Close-Embrace: Advanced Pasos (steps).
7:30-8:50 pm. Navigation of the Milonga floor. Plus: Basic Milonga con Traspie.
8:50-10pm Practica
---
Private lessons are available with George Garcia at $75 an hour at Back In Motion Studio, 412 Ehilani, Pukalani. Contact Kathleen Kohler 572-9599 kitlmp@hotmail.com
---
Download Poster to help with publicity:
8.5 x 11
4 Handbills
---
---