A special opportunity!!
Three Day Workshop, Milonga and Practica
Friday-Sunday, January 13 15, 2006

with
Patty Leverett & Kevin Rossio
of Seattle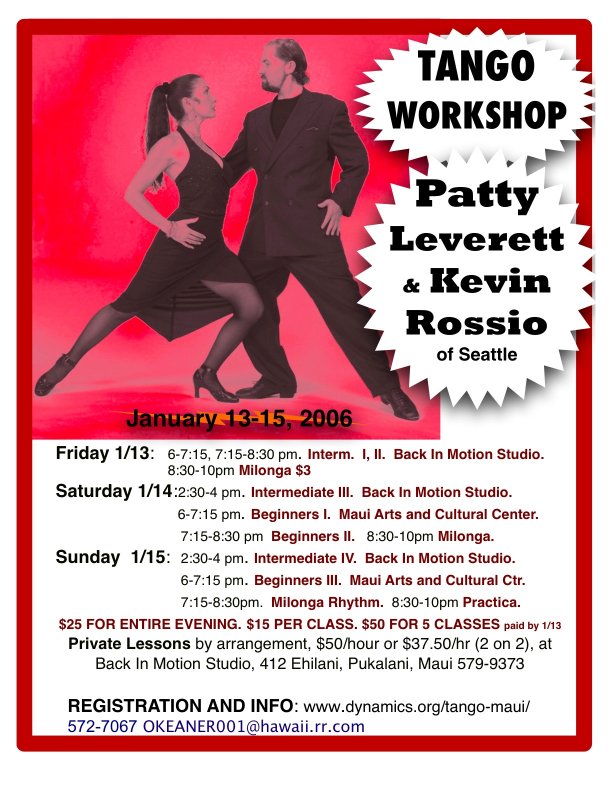 FRI, JAN 13th

6-7:15pm  INT I - VOLCADA basic elements, technique, styling, L/F & social Tango variations @ BIMS
7:15-8:30pm INT II - TANGO VALS 3/4 time musicality w/Tango steps & the Volcada variation @ BIMS
8:30-10pm  MILONGA dance for everyone to practice & enjoy..:) @ BIMS

 
SAT, JAN 14th

2:30-4pm INT III - COLGADA basic elements, styling, L/F & sweet, social Tango variation(s) @ BIMS
6-7:15pm BEG I - EARTH - move from the earth, into the ground, solid, smooth walking for 2 @ MACC
7:15-8:30pm BEG II - WATER & WIND - flow & glide w/smooth, sweet, sensual movements @ MACC
8:30-10pm  MILONGA dance for everyone to practice & enjoy..:) @ MACC  

SUN, JAN 15th

2:30-4pm INT IV - Combining VOLCADAS with COLGADAS in wonderfully flowing patterns... @ BIMS
6-7:15pm BEG III - FIRE - putting passion into your movements (just the right amount..:) @ MACC
7:15-8:30pm All level - MILONGA RHYTHMS - Feel the music - dance Milonga basics!!! @ MACC
8:30-10pm  Tango PRACTICA for all..:) @ MACC  
Patty Leverett and Kevin Rossio have a combined teaching experience in Argentine Tango of 25 years!  Individually and together they have been fortunate to study and dance with many of the great Argentine maestros: Copes, Gloria & Eduardo, Fabian, Fernanda & Guillermo, Carlos & Alicia, Gabriela, Miriam & Hugo, Gavito & Marcela, Susana, Cacho, Paiva, etc. Between attending and teaching at dance camps across North America and studying in Buenos Aires, they have been exposed to all styles of traditional Milonguero, modified Close Embrace, Salon and Exhibition Argentine Tango, as well as newly evolving forms of Tango Nuevo.  

Personally, Patty and Kevin favor a V shaped close embrace, which allows them to dance in tight spaces, yet open up when appropriate. Their dance style is described as elegant, connected & expressive. Their teaching, however, is adapted to close and open embrace styles.  

Both Leverett and Rossio are also trained musicians and savor the musicality available within the many moods and tempos of Argentine Tango, Vals and Milonga.  Still, their focus is on sensitive, intimate  partnering, allowing two to move as one while playing the music within.  

Workshops focus on - balance, centering, smooth movements & good technique - which promotes listening, collecting, focusing on partnering, sharing and trading moments of expression and embellishment - the musicality & individuality within common (uncommon:) Tango moves.  
Private Lessons: $75/hour for both of us or $50/hour for 1 of us.  That way we can book 2 privates at the same time.  The price is for 1 or 2 persons.
Cost:

$25 FOR ENTIRE EVENING.
$15 PER CLASS.
$50 FOR 5 CLASSES if paid by 1/13/2006.
Maps:
Maui Arts and Cultural Center, Omori Studio,
Kahului, Maui, Hawai`i:

Back In Motion Studio,
412 Ehilani, Pukalani, Maui, Hawai`i:
Download Poster to help with publicity:
8.5 x 11
4 Handbills
---
---