---
Lee Altenberg's Home Page | Archives | Papers | E-mail me
---
"Away in a Manger" and Strauss's "Tales from the Vienna Woods"
Lee Altenberg © 2009
Christmas, December 25, 2009
---
When I was in high school, I noticed that the Christmas song "Away in a Manger" was almost verbatim the same melody as a part of Johann Strauss, Jr.'s "Tales from the Vienna Woods" (Geschichten aus dem Wienerwald). So I wrote an arrangement for my band mates which starts out as "Away in a Manger", morphs into "Tales from the Vienna Woods", and morphs back to finish as "Away in a Manger".
It being Christmas, I have been playing Christmas carols, and got curious as to whether anyone else had noted the similarity. My search of Google turned up nothing. But I did find interesting information on "Away in a Manger". The Wikipedia page described that "Away in a Manger" was published in a Cincinnati by James R. Murray in 1887. The score says, "Composed by Martin Luther for his children, and still sung by German mothers to their little ones," but the article cites sources saying this song was never found among Luther's writings, and that Murray must have been the composer, and the false attribution to Martin Luther may have been just marketing.
But I wonder if Strauss should have really been credited as the composer, at least in part. "Tales from the Vienna Woods" was written in 1868. The second half of "Away in a Manger" departs from Strauss's melody, and is a very fine melody it its own right. So perhaps this was a case similar to George Harrison's "My Sweet Lord" which is identical in the beginning to the song from a few years earlier, "He's So Fine". Harrison was sued for this, and claimed he never consciously meant to plagiarize. But he should have done what Paul McCartney did when he woke up one morning with the melody for "Michele" in his mind — he asked around to find out who must have written it — but no one had heard it before — it was Paul's creation.
I was able to find scores for the two pieces. So here they are for comparison:
Source: imslp.org: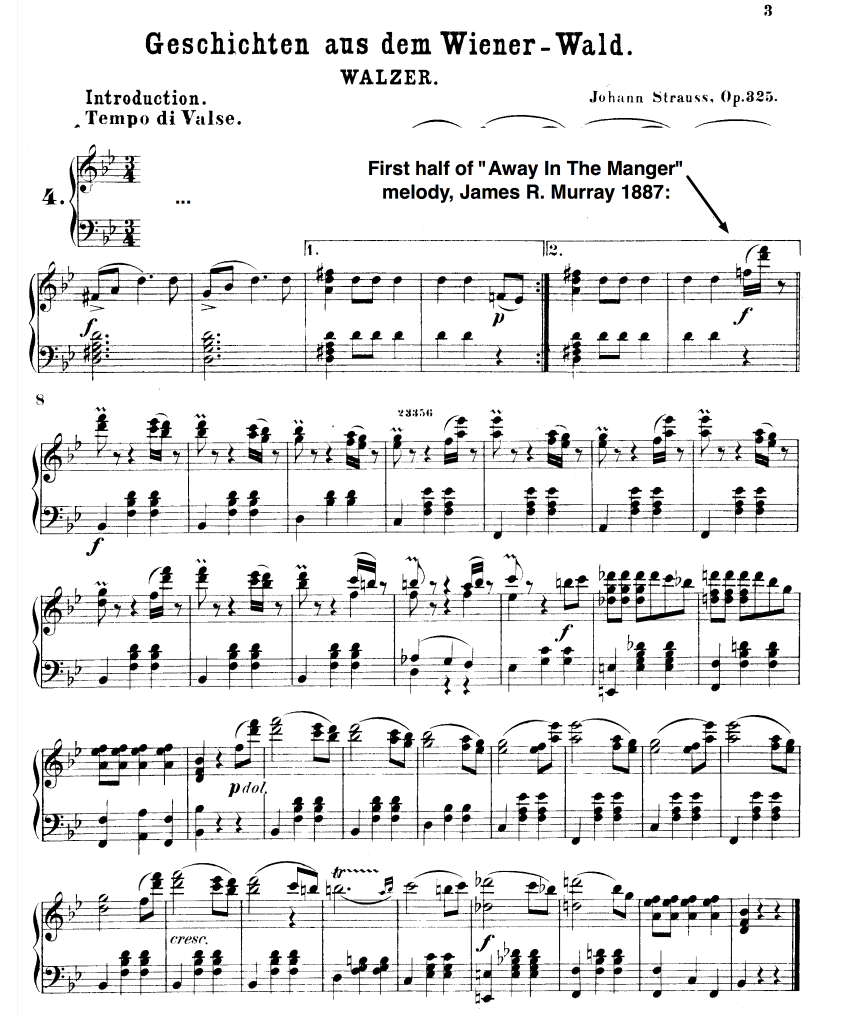 Source: digital.library.pitt.edu:

---